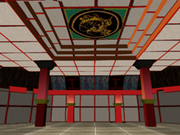 This is an area that is linked to the area often referred to as Kyoto, It appears to be a dojo, in traditional Japanese styling. Several japanese characters can be seen practicing martial arts in this area.
A figure can be seen balancing on top of a stack of chairs in one area.
In another, a person can be seen kicking a ball across the ground, that will then bounce back to them.